Timorese athletes to participate at the 2013 SEA Games
Fri. 26 of July of 2013, 20:21h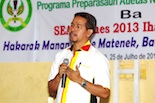 There will be 48 Timorese athletes participating at the sports event "2013 Sea Games", taking place in Myanmar, next December.
The athletes, divided into six different sports, begin attending the Training Centre (TC) in Díli, from July 25th until next December.
Of these six sports, athletics, cycling, boxing and taekwondo have 2 athletes each, Kempo has 18 athletes and football 22 athletes.
On July 25th, the opening day ceremony at the TC, Díli gym, the Secretary of State of Youth and Sports, Miguel Manetelo, set the tone: "Victory can only be achieved with intelligence, pride, discipline and self-confidence".
Miguel Manetelo advised the athletes to keep their discipline during the preparation months, aiming to achieve good results at the 2013 Sea Games.
"Many young people, like you, wish to participate in this event, but still haven't had that chance. Although the sports sector hasn't yet reached its maximum potential, we are confident that, with the resources that Timor-Leste has, we are going to achieve good results", referred the Secretary of State, pointing out, at the same time, the fact that this event might allow participating in the Asia Games.
The Chairman of the Sports Confederation of Timor Leste (SCTL), who is also Chairman of the Committee for Preparation of National Athletes (CPNA), Higínio António Trindade, highlighted that "the athletes' selection is based on individual preparation and classification in each sport, through competitions organized at the national, regional and international level".