INFORDEPE graduates 634 teachers
Wed. 29 of February of 2012, 14:48h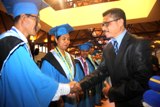 On February 24, the National Institute for Training of Teachers and Education Professionals (INFORDEPE), from the Ministry of Education, organised at the Díli Convention Center, the graduation ceremony of 634 teachers. The Professor Doctor Benjamin Corte-Real was the guest speaker.
Teachers completed the training in higher education with a Bachelor's degree in Education for Basic Education in six areas of specialisation: the Portuguese Language (279), 1st and 2nd cycle (54), Physics (28), Mathematics (128), Chemistry (10) and Biology (135).
This was the third graduation held, since the creation of INFORDEPE in January 2011, with a total of 1,206 teachers with academic qualifications on higher education appropriate for professional activity awarded. At the first graduation organised by INFORDEPE on May 27, 2011, 375 bachelors were graduated and in the second, on October 14 of the same year, 197 graduated.
These graduates participated in the Night Course of Bachelor, a program of "training and retraining of teachers" from the Ministry of Education, which has signed up around 2,500 teachers for the period 2004-05 to 2007-08, with 2,231 having completed their professionalism in servicetraining.
The INFORDEPE has organised various training activities for professional development in teaching knowledge of official languages, professional ethics, scientific knowledge and teaching. In this ceremony, the Minister of Education, João Câncio Freitas, stated that "the professional development of teachers passes through lifelong learning. It is therefore essential that your contribution to your work as teachers is valued, enhanced, promoted and respected".
João Câncio Freitas commented further that the statement from António Nóvoa (1992) was chosen to be the theme of the ceremony, where he said "There is no quality education or educational reform or educational innovation without adequate training of teachers", which applies "entirely to the present time Timor-Leste regarding education".
The Minister of Education reiterated the importance of ensuring a quality teacher training, reiterating that "despite the efforts of the Ministry of Education, and the instruments that have been created and all the reforms carried out, will only be possible to achieve the desired improvements if the teacher training is of good quality and if they feel motivated to change and improve their professional practice. More education means more equal opportunities, improving access to employment, better training of human resources for the national economy and more guarantees of true independence and sovereignty".