SERN receives timorese with scholarship in the Geology area
Tue. 22 of March of 2011, 10:16h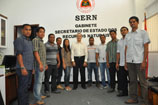 Last Friday, the Secretary of State for Natural Resources, Alfredo Pires, met with 10 finalists with SERN supported scholarships in the Geology area who attended the course in Portugal, and talked about the theme that each one is going to present as final work.
"During two years in Portugal, they worked to conclude the first phase of their studies in Geology. Now they've passed to the second phase, which is the monograph presentation based on the Timorese geology. Each one will go to the districts accompanied by the Portuguese teachers, with the purpose of identifying and researching the existent of mineral wealth in the Timor-Leste territory" highlighted Alfredo Pires.
The Secretary of State also informed that the scholarship students, nine men and one woman, will conclude their studies and will get their diploma in Timor-Leste.
In the same occasion, Dírcia da Silva, one of the scholarship students, stated that "our course has the objective of studying Timor-Leste's Geology, namely the mineral and precious stones such as marble, gold, among others".