MTCI presents the concept and design of the Kaitehu beach recreation site
Wed. 04 of May of 2022, 09:50h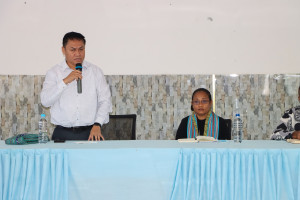 Friday, April 29th, 2022- The Ministry of Tourism, Commerce and Industry (MTCI), through its National Directorate of Tourism Development (NDTD), presented the concept and design for the development of the Kaitehu beach recreation site in Liquiçá. This event was attended by the Minister of Tourism, Commerce and Industry, José Lucas do Carmo da Silva, accompanied by the Vice Minister of Community and Cultural Tourism, Inácia da Conceição Teixeira, and was held at the Liquiçá municipal administrative post hall.
At the opening, the Administrator of the Liquiçá Municipality, Pedro Paulo Gomes, expressed his gratitude to the Government "through the MTCI, for the interest in developing the recreation area of Kaitehu beach, because this place has great touristic potential.
In his speech, the MTCI, José Lucas do Carmo da Silva, referred that tourism is a productive sector, and therefore, "the eighth Government has the will to develop tourist sites, to be able to diversify the country's economy".
The Minister also said that the Kaitehu beach recreation site is a potential site and that it will bring good opportunities for the development of tourism sites in the Liquiçá area. "Kaitehu beach has to become a good destination to be able to attract visitors, both those from Dili, which is nearby, and foreign visitors".
In this concept presentation ceremony, the NDTD Directorate also referred to a set of activities that will be installed on this beach and proceeded to the signing of the sector lines agreement by the MTCI, the Liquiçá Administrator and the Director of Land and Property.