The Government of Timor-Leste and the New Zealand Embassy strengthen partnership in building human resources capacity in Timor-Leste through a course on Trade Policy
Thu. 13 of January of 2022, 18:52h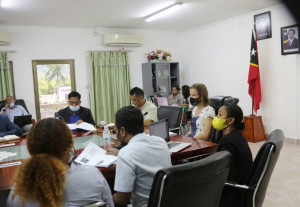 The Coordinating Minister for Economic Affairs (MCAE – Portuguese acronym), through the World Trade Organization (WTO) Support Unit, received support from the New Zealand Government to offer a three-month course on Trade Policy, directed at members of the Timor-Leste's WTO Accession Working Group. The course has the participation of elements from various ministerial lines and autonomous agencies.
At the course's opening session, on January 13th, 2022, the Second Secretary of the New Zealand Embassy, Yvonne McKinnel, stressed the commitment of the New Zealand Government in supporting the will of the Government of Timor-Leste in this process.
"New Zealand is delighted to be able to work together with Timor-Leste in supporting their WTO accession process, and we look forward to Timor-Leste becoming a member of the WTO. WTO membership is important for nations seeking to increase their trade, through the creation of a predictable and open trading system, and by promoting economic diversification and development, " said Yvonne McKinnel.
This virtual course is taught by New Zealand expert Stephanie Honey, who has 25 years of experience in the public and private sectors. Course participants include leaders of state institutions, namely the Ministry of Finance, the Ministry of Foreign Affairs and Cooperation, the Ministry of Transport and Communications, the Ministry of Tourism, Trade and Industry, the Ministry of Agriculture and Fisheries, the National Petroleum and Minerals Authority (ANPM – Portuguese acronym), the Service for Enterprise Verification Registration (SERVE – Portuguese acronym), the Authority for Inspection and Supervision of Economic, Health and Food Activity (AIFAESA – Portuguese acronym), the Investment and Export Promotion Agency (TradeInvest), the Quality Institute of Timor-Leste (IQTL – Portuguese acronym), the Customs Authority, and also the technical team from the Office of the Coordinating Minister for Economic Affairs.
During the three months of the course, the participants will cover various important contents, from an overview of trade policy to the principles of policy development on trade. Thus, on the first day participants will have a presentation on the description of trade policies, namely how the trading system is based on ecosystem rules and also on current WTO issues.
The Coordinating Minister for Economic Affairs, Joaquim Amaral, highly praised the support offered by the New Zealand Government, through its Ambassador Philip Hewitt.
"It is an honour and a great privilege that the Government of New Zealand has decided to give this support to the Government of Timor-Leste by providing technical assistance aimed at improving the quality of Timor-Leste's human resources in our bid to join the WTO "
Before this course, the New Zealand government had also assisted in English language training for the WTO working group, through a specialized "English Language for Trade Policy" course, which was delivered by the Lorosa'e English Language Institute (LELI).
(MCAE)