The Law that regulates Domestic Violence was approved by the National Parliament
Tue. 11 of May of 2010, 09:37h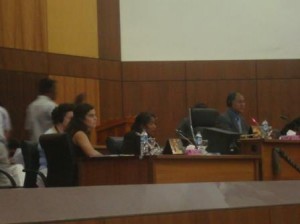 The National Parliament approved, in the plenary session of the 3rd of May, the Law Proposal about Domestic Violence, with 30 (thirty) votes in favour, 0 (zero) against and 3 (three) abstentions. This Law will be sent to the Chief of State, Dr. José Ramos-Horta, for promulgation.
This law intends to implement effective measures in regards to the prevention and promotion of the Victims' Rights and to give support according to the Human Rights international standard. The present law aims to create and reinforce a prevention mechanism in regards to domestic violence and promotion of the Victim Rights and legal assistance in his/her favour.
The compulsory nature inserted in the present law, confers to the State the duty to prevent the practice of domestic violence, represented by the physical, sexual, psychological and economic aggression. The State has an equal obligation to protect and give support to the victims, within the family, represented as the wife, ex-wife, child, parents and other persons that work for the family (workers). Concerning this issue, the Police assumes a special duty.
According to the Penal Code, this law also refers to the domestic violence for the definition of this practice as a "public crime" and not as a "semi-public crime". This means that in the case of a domestic violence occurence, it is everyone's responsibility and not only the victims, to appeal, through complaints, for police intervention. The Police are responsible for acting directly without waiting for the victim's or witnesses' complaints. In case there's domestic violence, the law gives priority to the case according to the judicial system.
In regards to assistance in favour of the victim, the present legal provision guarantees the victim access to the complete information about their case, with the necessary assistance according to their needs, besides the measures that have to be taken by the Government.
The approval of the Domestic Violence Law represents an important step for Timor-Leste in the context of making an effort to ensure justice, security and capacitating women.