Minister of Health and Vice-Minister of the Interior coordinate the preparation of the contingency plan for COVID-19 prevention
Wed. 22 of July of 2020, 12:51h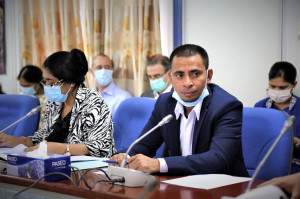 The Minister of Health, Odete Maria Freitas Belo and the Vice-Minister of the Interior, António Armindo, met, on July 22nd, 2020, to discuss the contingency plan, which is being prepared by the two ministries and which contains the procedures and sanitary measures to protect public health, to be adopted when the normal functioning of borders will reinstate.
The main purpose of the meeting was the joint coordination of a political strategy, for the preparation of the border posts infrastructures and quarantine places conditions.
Last month, the Government, through the Ministry of the Interior, authorized the Migration Service to open the land border, especially to receive Timorese citizens, weekly, on Wednesdays, from 10 am to 12 pm.
Concerns about the emergence of new cases of COVID-19 remains, although Timor-Leste has had no active cases since May 15th, 2020, because the number of infected people, worldwide, continues to increase. At the regional level, the number of infected people in neighbouring Indonesia also continues to rise, mainly in the province of Sonda Oriental (Nusa Tenggara Timur, NTT), which the western part of the island of Timor is integrated. Therefore, it is necessary to adopt several measures to prevent the emergence of new cases of COVID-19 in the country.
At this stage, coordination and planning between ministerial lines is extremely important, in order to continue border control measures, and to establish operational mechanisms, to maintain the patient triage and screening of the disease, in quarantine centres, and in other areas already identified, in order to avoid new sources of contamination.
The Vice-Minister of Interior thanked the Minister of Health for his ideas and insights, and expressed his commitment to continue the cooperation with the Ministry of Health, in order to ensure that all citizens entering the national territory comply with the health protocol and the 14 days quarantine.