Government in Laleia to symbolic harvest of rice
Thu. 06 of July of 2017, 10:42h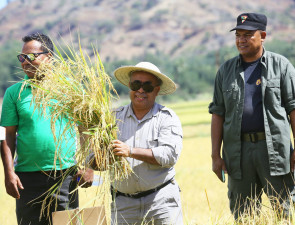 On July 5th, the Minister of State, Coordinator of Economic Affairs and Minister of Agriculture and Fisheries, Estanislau da Silva, took part in the first symbolic harvest of rice, in Bulutu, in the administrative post of Laleia, in the municipality of Manatuto.
In a plot of land with 269.6 thousand hectares, 3.8 tonnes of rice was produced, which will benefit 144 farmers.
Minister of State Estanislau da Silva thanked the farmers' community for their work following the inauguration of the irrigation system, in January: "I congratulate the farmers of Laleia, because it was your work that allowed us today to proceed with the harvest of rice. The Government has an integrated programme – 'People plant, Government buys' – and, in this harvest, the team from the National Centre for Logistics from the Ministry of Commerce, Industry and Environment, which will buy your seeds, is also present."
The team from the National Centre for Logistics also congratulated the farmers on the harvest and asked them to increase production, in order to gradually decrease rice imports.