Statue of Francisco Xavier do Amaral inaugurated in Dili
Mon. 22 of May of 2017, 11:22h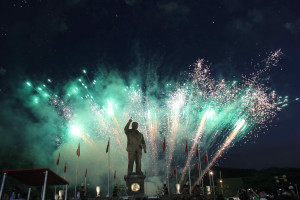 A statue of Mr. Francisco Xavier do Amaral, the first President of Timor-Leste and the Proclaimer of the Nation's Independence, was inaugurated in Dili on the 20th of May in a special a ceremony held at sunset.
The Minister of State, Dionísio Babo Soares, whose Ministry of State Administration played a major role in the construction of the monument and the ceremony, opened the proceedings by acknowledging the family representatives of Mr. Amaral and the participation of Timor-Leste's historic leaders on this special occasion.
The Minister of Planning and Strategic Investment, Kay Rala Xanana Gusmão spoke from the podium along with former Prime Minister Dr. Mari Alkatiri, a representative of the Amaral family and the newly inaugurated President of the Republic, Francisco Guterres 'Lu-Olo'. The Prime Minister Dr. Rui Maria de Araújo and many of the Ministers of the Sixth Constitutional Government were in attendance.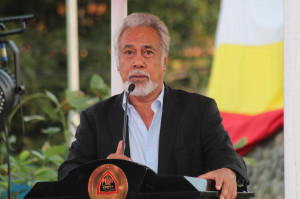 Minister Gusmão referred to Xavier do Amaral, who passed away in 2012, with great affection. He said he was historic and courageous figure who fought for the principles of democracy and for the dignity of the Timorese people.
All speakers at the ceremony noted the importance of the monument as a way to remind the younger generation and the generations to come of the history of Timor-Leste's struggle for liberation.
The large statue is positioned on an elaborate platform in the roundabout adjacent to the Dili Convention Centre and was unveiled just as the sun was setting. After an impressive fireworks display enjoyed by several thousands of people attending, the President of the Republic signed the plaque at the foot of the memorial. Following the blessing of the statue and the laying of wreaths and tributes, members of the public paid their respects and enjoyed festivities.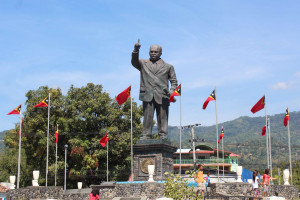 Large billboards surrounding the roundabout showed the iconic picture taken at the Proclamation of Independence on the 28th of November 1975 and carried the quote of Mr. Francisco Xavier do Amaral:
"Together, we consolidate unity and stability for national development."