Biography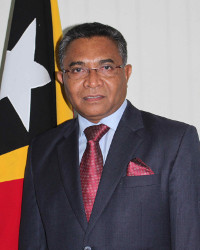 H.E. Dr. Rui Maria de Araújo
Dr. Rui Maria de Araújo is the Prime Minister of Timor-Leste. He was sworn into office on the 16th of February 2015 and leads the Sixth Constitutional Government.
Dr. Araújo was born on the 21st of May, 1964 in Zumalai, Timor-Leste. His early years of schooling were interrupted by the invasion of Indonesian troops in December of 1975 when he and his family took refuge in the FRETILIN controlled areas of Suai, Bobonaro and Ainaro. After three years of evading capture they surrendered to Indonesian troops in 1978. He went on to complete his secondary studies at the Catholic School, Externato de São José, in Dili, the only school to teach the Portuguese curriculum during the Indonesian occupation.
On completing his secondary schooling in 1985 Araújo was awarded a scholarship to study English Literature at Satya Wacana University in Central Java. In Indonesia he began clandestine activities to support the resistance struggle, supplying information on the occupation to the Timorese diaspora and acting as a courier for secret documents and packages.
In 1986 he made a life changing decision to pursue a career in Medicine and began studying at the Medical School of Sultan Agung University, a Moslem Private University in Semarang, Indonesia. Then in 1989 he began the second part of his training at the Medical Faculty of Udayana University. It was at this time that Araújo became a member of RENETIL, Timor-Leste's National Student Resistance, and supported the group's communication efforts, editing their political bulletin "Neon Metin".
Between 1990 and 1992 Araújo acted as a special liaison in Bali for FALINTIL'S Commander in Chief, Kay Rala Xanana Gusmão, José Ramos-Horta and Civil Society Organizations supporting the resistance struggle. In 1991 he assisted the team from Yorkshire Television whose documentary "In Cold Blood: The Massacre of East Timor" helped change the course of history and in May of that year met Gusmão in his secret hiding place in Lahane, Dili to deliver a transceiver radio and receive instructions on the expected visit of a Portuguese Parliamentary Delegation.
In July 1994, after further study and a two-year internship "Mr. Araújo" became "Dr. Araújo", graduating as a General Practitioner and Medical Doctor.
Equipped to serve the obvious needs in his homeland, Dr. Araújo promptly returned to Timor-Leste and worked for the next four years as a General Practitioner and House Surgeon at the Provincial Hospital in Dili.
At this time he managed a tuberculosis program funded by Caritas Norway and implemented in all Catholic Clinics across Timor-Leste. He also quietly provided medical assistance to several guerilla fighters in the villages and in the cities including attending to FALINTIL's Chief of Staff the late David Alex Daitula.
The years of working in Dili enabled Dr. Araújo to detect the gaps in Timor-Leste's health care, leading him to undertake a postgraduate diploma in public health, majoring in Health Policy, Health Management and Health Financing, at Otago University, New Zealand. Indonesian Intelligence tried to block his scholarship request in 1998 for this study as by this time he had been identified as a "pro-independence clandestine operative", however a Masters Degree in Public Health was awarded in 2001 after field research lead to his thesis ''A Suitable Health System for East Timor from the Perspective of the East Timorese''.
Whilst studying in New Zealand back in his homeland the Timorese people finally had the opportunity to choose the future they wanted for their country and on the 30th of August 1999 voted overwhelmingly for independence in a UN sponsored referendum. Dr. Araújo worked within the United Nations Transitional Administration that followed, firstly in the Interim Health Authority, then as the Head of the Division of Health Services and then on the 20th of September 2001 was appointed by FRETILIN as the Minister for Health in the Transition Government.
On the day of Timor-Leste's restoration of independence, 20 May 2002, Dr. Araújo was reappointed by FRETILIN as Minister of Health in what was now, proudly, the First Constitutional Government of the Democratic Republic of Timor-Leste. He was Minister of Health in the first Constitutional Government until August 2007 and added to his portfolio the role of Deputy Prime Minister of Social Affairs in June 2006.
In the years that followed his service as a Minister he continued to use his skills to serve Timor-Leste. From 2007 till 2012 Dr. Araújo was appointed to the Council of State, the top State Advisory body for the President of the Republic at that time, H.E. Dr. José Ramos-Horta. He continued to serve in the health sector as a Policy and Management Advisor to the Ministry of Health till 2008 and then took on Senior Advisory roles within the Ministry of Finance, first on the Professional Development Program, then within Corporate Services and finally, until his appointment as Prime Minister, as a Corporate Policy Advisor.
Dr. Araújo formally joined FRETILIN in 2010 and in 2011 was elected as one of the members of the Central Committee.
Dr. Araújo was confirmed as the next Prime Minister of Timor-Leste by the President of the Republic, H.E. Taur Matan Ruak, in February 2015 after incumbent H.E. Kay Rala Xanana Gusmão announced his resignation. The political party of Gusmão, CNRT, proposed Araújo as Prime Minister and, as the party with the largest number of seats in the National Parliament, the President approved their candidate. Dr. Araújo and the other members of the Sixth Constitutional Government of Timor-Leste were subsequently sworn in on the 16th of February 2015.