Timor-Leste and Indonesia continue to strengthen bilateral cooperation
Mon. 10 of March of 2014, 16:03h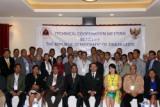 The Ministry of Foreign Affairs and Cooperation (MoFAC) organized a meeting with the Indonesian authorities to discuss issues related to cooperation between the two countries. The meeting took place in the Timorese capital, on March 7.
Two major issues were on the agenda: a review of bilateral technical cooperation and the current situation on the outcome of the meeting two years ago in Jakarta between the President of Timor-Leste, Taur Matan Ruak, and the President of the Republic of Indonesia, Suesilo Bambang Yudhoyono, where the Indonesian head of state promised to increase the technical cooperation with Timor-Leste.
The Director-General for External Relations, João Freitas da Camara, said that Indonesia donated six million dollars to projects in the fields of Health, Environment, Industry, Agriculture, Security, Defense, and the training of civil servants including scholarships to autonomous bodies, such as universities.
The Indonesian Ambassador, Primanto Hendrasmoro said that this meeting was only to review technical cooperation that already exists between the two countries. "We did an assessment so that, in the future, cooperation can constructively benefit the development of Timor-Leste. The Indonesian government intends to continue to work together with the Government of Timor-Leste, through technical cooperation in all sectors, "said Primanto Hendrasmoro.
From 2009 to 2013, Indonesia and Timor-Leste have developed 122 projects covering 1,811 beneficiaries in the sectors of Health, Environment, Industry, Agriculture, Security, Defense, Education, Scholarships and Training Courses.
Present in this bilateral meeting, in addition to the Director-General, were the National Directors from MoFAC and the Secretariats of State from the Ministry.