Reactivation of payment of electricity in Lospalos sub-district
Mon. 08 of April of 2013, 15:19h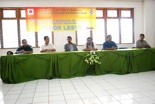 On 4 April, 2013 Electricity of Timor-Leste (EDTL) organised a one-day seminar in Lospalos on the reactivation of payment of electricity by the population of Lospalos sub-district.
In accordance with the Minister of Public Works, Gastão de Sousa, "Electricity on a 24-hour basis in those houses which already had it and in other areas which did not have is now a reality".
"It is important to improve the provision of our services to the population because, in order to reactivate the payment of electricity to EDTL we need to be ready to respond to the needs of the population. We therefore asked EDTL to commit itself to a quality service", Mr. Gastão de Sousa stated.
The Head of EDTL in Lautém, Gil da Silva, took advantage of the occasion to state that the total of registered customers in Lautém up to now is approximately 1,500. This number refers only to five sucos. He also said that the registration process continues to take place until the entire population still without electricity is registered.
For the representative of Lautém Administrator, José Monteiro, "the community has the right to enjoy the goods and services made available by the State, but it also has to use such goods and services with a spirit of responsibility and should not undertake illegal electricity connections. EDTL supplies electricity, but, in return, the community must comply with its duties and obligations".