Timorese Minister of Petroleum and Mineral Resources receives Australian counterpart
Fri. 22 of February of 2013, 20:56h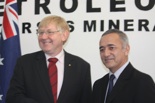 On 21 February 2013 the Minister of Petroleum and Mineral Resources, Alfredo Pires, received the visit of his counterpart, the Australian Minister of Resources and Tourism, Member of Parliament Martin Ferguson. The meeting took place at the Ministry of Petroleum and Mineral Resources, Fomento, Dili.
The objective of the visit of Martin Ferguson to Timor/Leste was to discuss the issue of transparency and development of human resources of the two countries linked exclusively to mineral resources, in the framework of the Certain Maritime Agreement on Timor/Leste (CMATS).
"I wish to say that our recent concern focused on the duration of the Treaty, which is very long, and on the search for a viable means that allows us to unilaterally choose to withdraw from the same Treaty without engaging into a confrontation with the Australian Government", Mr. Alfredo Pires clarified.
"Regardless of the diversity of opinions that may exist insofar as the CMATS Treaty is concerned, our stance as regards Greater Sunrise to bring the oil and gas pipeline to Timor-Leste as regards is maintained", the minister ensured.
Martin Ferguson in turn reaffirmed the commitment of Australia to cooperate with Timor-Leste in the framework of mineral resources and gas management in the Joint Petroleum Development area and in the development of gas reserves in Greater Sunrise, Timor Sea.
"It is the competence of the Ministers of Foreign Affairs and Cooperation of Timor-Leste and Australia to negotiate on the CMATS Treaty", the Australian Minister of Resources and Tourism advocated.