MoFA met Ambassador of the People's Republic of Bangladesh to Timor-Leste
Mon. 16 of January of 2012, 15:54h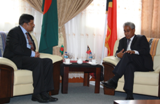 Minister of Foreign Affairs, Zacarias da Costa, met on January 11, with Golam Mohammad, Ambassador of the People's Republic of Bangladesh to Timor-Leste, with residence in Jakarta.
Ambassador Golam Mohammad was in Dili to present Letter of Credential to the President of Republic José Ramos-Horta.
Minister Zacarias da Costa warmly welcomed Ambassador Mohammad and thanked the Ambassador for the continued support Bangladesh is giving to Timor-Leste: "I would like to acknowledge and thank you for the support you are giving us. The presence of your force in the UN mission is just one example of this support. We have to look for other areas of cooperation. We look forward to deepening our relationship in other areas such as fisheries, agriculture and health".
Ambassador Golan Mohamad said that Bangladesh is keen to help Timor-Leste in any way and emphasized the similarities between both countries: "We have the same issues, and similar challenges. The sentiment is there and we can work together". Ambassador Golan Mohamad also said that "he had the opportunity to meet with the Bangladesh community working in Timor-Leste and the feed-back is that the community is very positive".
The Minister of Foreign Affairs, Zacarias da Costa was invited to visit Bangladesh next month.