2,246 temporary employees pass to permanent status
Wed. 17 of August of 2011, 15:58h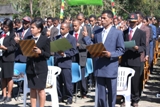 Between August 9 and 12, the Civil Service Commission has conducted, the inauguration ceremonies converting temporary employees into permanent. In total they were 2,246 employees scattered through the Aileu, Manufahi, Ainaro and Covalima districts.
The President of the Civil Service Commission, Libório Pereira, in his speeches, recalled that "you, newly-sworn employees, in your pledge today, undertake to obey the Constitution and Public Administration rules to serve the nation taking into account all the standards in force in this country".
Libório Pereira gave the example of employees who exercise their function as teachers, nurses, staff in agriculture and electricity, all have the same goal, to serve the public interest, or put the public interest above private or political interests and should be ready to be placed anywhere in the territory and obey their superiors.
The Ainaro district administrator considered it a day of celebration for the district: "We are delighted once again that our 560 employees were inducted as permanent employees. On their behalf I want to thank your presence here with us, to make this solemn day a special day for the employees of this district because it motivates, not only the permanent employees but also the newly sworn in. "
The Suai district administrator, Inácio Pires, told the 695 newly sworn in employees saying that they achieved what they had hoped over the years, the recognition of their services.