Ministry of Economy and Development and Geocapital sign Memorandum of Understanding
Tue. 23 of November of 2010, 17:11h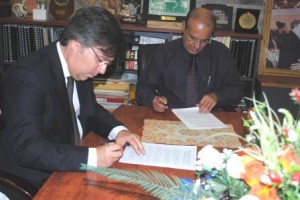 The Minister of Economy and Development, João Mendes Gonçalves, and the Geocapital Administrator, Diogo Lacerda Machado, signed, in the beginning of November, a Memorandum of Understanding between the Timor-Leste Government and Geocapital, Participations Management, S.A., for the creation of the Timor-Leste National Development Bank.
The signature of this Memorandum comes from the necessity of the State to create the essential infrastructures for public and private investment, for the development of the National Strategic Development Plan.
The Timor-Leste Government intends to found a Bank of national nature that will focus its financing action on medium to large companies, and in the development of infrastructure projects essential to the country.
In its turn, Geocapital is directed to carry out investment in strategic participations in finance institutions in Portuguese speaking countries and thus, alone or accompanied by other investors, intends to create or participate in the social capital of a Timor-Leste Bank, in a way that, in cooperation with the Government, develop the necessary financial instruments.
Both Government and Geocapital highlight the importance of drafting an Action plan together, and in the spirit of good faith and loyalty between the parties, to plan the steps for the creation and implementation of the National Development Bank.
The signature of this Memorandum of Understanding compromises the two parties in identifying and joining, as soon as possible, each other's areas of intervention. The Timor-Leste Government will promote, next to the timorese authorities with competence in this area, all efforts so that the functioning of the Bank may start and Geocapital will make available all its experience and know-how to the project for creating and developing the National Development Bank.