Covalima district representatives as guests of the Port Philip city, in Australia
Mon. 18 of Outubro of 2010, 15:40h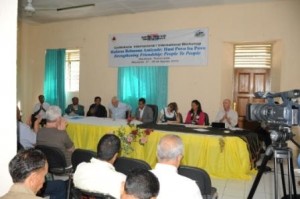 Through the Ministry of State Administration and Territorial Planning (Portuguese acronym MAEOT), the city of Port Phillip, in Melbourne, launched an invitation to the Covalima district representatives involved in the Friendly City program. The Covalima local representatives were invited to visit Port Philip with the purpose to renew the Memorandum of Understanding, to launch a cooperation strategic plan, to reinforce the friendship link and to share opinions about the Friendly City program among other issues. This visit will take place between 15 and 29 October.
The Covalima District Assistant Administrator, Teófilo do Carmo, revealed himself "… pleased in receiving the invitation from friends in the city of Port Phillip, it is a good opportunity to get to know each other better, to broaden our knowledge horizons, the ideas and the vision about all that may be important for the Covalima district, especially in what concerns the Friendly City program".
Teófilo do Carmo, together with the Covalima Community Centre Coordinator, Alberto de Jesus Barros, will participate in the ceremony for the celebration of the tenth anniversary of this program, signing the updated version of the Memorandum of Understanding, and the launch of the Cooperation Strategic Plan for the years 2010-2020. They will also have the opportunity to visit, and see how the Municipalities in Australia work, as well as the meetings with the Program partners.
The city of Port Philip is available to help in the rehabilitation of the District Administrator's residence as well as the Covalima Community Centre, in computer installation, programs concerning agriculture and in the capacity building of the youth through English and IT courses.