Prime Minister invites Indonesian businessman to invest in Timor-Leste
Thu. 02 of September of 2010, 19:00h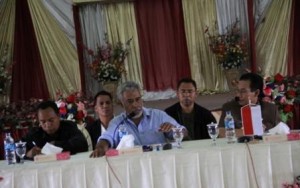 The Prime Minister, Kay Rala Xanana Gusmão, invited the Belu district companies and businessman from the Nusa Tengara Timur Province (NTT), Indonesia, to invest in Timor-Leste. The invitation was made during a meeting with the Belu district authorities and local companies representatives, during the one day visit to the region, on the 19th of August.
The Belu district Administrator, Joaquin Lopes, admitted that "although the Prime Minister, Xanana Gusmão, wasn't on a official visit, it was an important event for Indonesia and for the Belu district, in particular, since it reinforces the good relation already established in the past."
The Head of the IV Constitutional Government insisted in the invitation to Belu companies. Besides the investment, Kay Rala Xanana Gusmão appealed to the Indonesian businessmen to help in the Timor-Leste national companies' capacity building and to participate in the Nation's development process
The Prime Minister also highlighted that the consultation to the communities, on the part of the Timor-Leste Government, about the National Strategic Development Plan, will lead to the creation of many projects, and is to be expected that Indonesian companies (from Belu) may apply, having, however, to fulfil the Timor-Leste existing criteria.
The Head of the Belu district Indonesian Industry and Commerce Chamber (Indonesian acronym KADIN), Willy Lay, said that "the Belu businessman are ready to contribute in Timor-Leste's private sector development and national development". The Kadin Head pointed out, however, that the Indonesian businessmen still don't know the criteria demanded to companies. In response, the Head of the Government, made it known that the Indonesian businessmen can ask information at the Timor-Leste Consulate in Kupang.
In this event also participated the Belu Administrator, Joaquin Lopes, DANDIM 1605 Comander, J. Hotman Hutahaen, Belu district businessmen, Indonesian Mandiri bank directors, members of the Timorese Government and some guests.