National Department of Quarantine and Biosecurity and World Food Program organize a workshop on pest control and warehouse management
Wed. 15 of March of 2023, 09:47h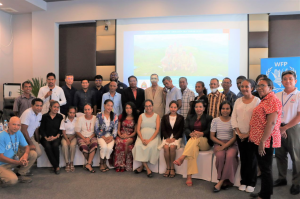 The Quarantine and Biosecurity Services of the Ministry of Agriculture and Fisheries and the World Food Programme (WFP) jointly organised a pest control and storage management workshop on March 14th, in Dili.
The seminar aimed to discuss storage operations, emphasising pest control and effective warehouse management.
The event was attended by representatives from various government entities, the private sector, and Non-Governmental Organizations linked to food logistics and storage, including the Ministry of Social Solidarity and Inclusion, the National Logistics Centre (CLN), and the TOMAK (To'os ba Moris Di'ak - Agriculture for Prosperity) programme, among other participants from the food sector.
During the seminar, some results of the 2022 assessments conducted in warehouses across the country were shared and discussed, focusing on the risk of the rice beetle (khapra). This highly destructive pest can affect rice and other crops.
WFP reiterated its commitment to continue supporting Timor-Leste in improving its storage operations to ensure safe food handling and storage.