Ministry of Public Works launches six IGEADI brigades for infrastructure development, maintenance and rehabilitation in several national regions
Sun. 15 of January of 2023, 00:33h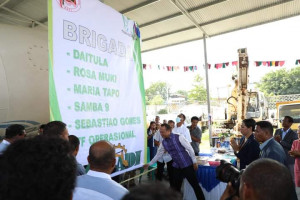 The Minister of Public Works, Abel Pires da Silva, accompanied by the President of the Institute for Equipment Management and Infrastructure Development Support (IGEADI – Portuguese acronym), Hermenegilda da Costa Laurentina, on January 15th, 2023, launched six brigades of the IGEADI for development, maintenance and rehabilitation of infrastructure in various national regions.
The six IGEADI teams are the Daitula Brigade, which will work in the municipalities of Baucau, Lautém and Viqueque, the Rosa Muki Brigade, which will work in the municipalities of Manatuto, Manufahi and Ainaro, the Maria Tapo Brigade, which will work in the municipalities of Bobonaro, Ermera and Covalima, and the Samba 9 Brigade, which will work in the municipalities of Liquiçá, Aileu and Dili. In addition, the Sebastião Gomes Brigade will act as a backup brigade to support emergency work, and finally, an Operational Task Force, which will be responsible for managing machinery, including graders, backhoe loaders, dump trucks, water tanks, fuel tanks and other machinery acquired for maintenance of damaged roads.
In his speech, the Minister of Public Works expressed his "satisfaction, pride, and privilege to be able to work with IGEADI's technical team, which is very strong in supporting the area of infrastructures, namely at the road level" and gave "a positive assessment of the work and progress achieved by this Public Institute".
Minister Abel Pires da Silva explained that the decision to name the brigades after national heroes was intended so that "their dedication will serve as a learning example" and "so that we may continue serving our country by bringing their spirit, commitment and sacrifice to a new development process.
The IGEADI's President, in her speech, recalled that she witnessed "since 2016, as an official, the transformation of IGE, from the time when it was only a National Directorate in the Ministry of Public Works, until now, when it became a Public Institute, with its statute".
She also thanked "IGEADI's structure, since the establishment of the institution until today and all technicians, who make a great effort to serve and address the concerns of the population."
Hermenegilda da Costa Laurentina also stated, "IGEADI has already managed to support and do many things throughout the country, but it hasn't been possible to do everything yet". However, she expressed the hope that "with the machines bought by the Government last year and with the increase in IGEADI's capacity, we will be able to do even more, according to the priorities plan and the urgent requests from our community".
The President of EDTL, EP, Paulo da Silva; the President of ANAS, IP, Domingos Pinto; the Vice-President of BTL, EP, Gustavo da Cruz; the members of IGEADI and all the technicians and employees of IGEADI, also attended the launching ceremony.