"The Restoration of Independence attributes us responsibility"
Fri. 21 of May of 2010, 09:50h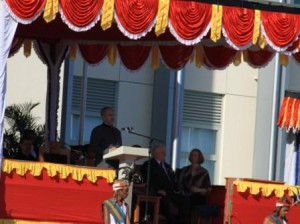 Timor-Leste celebrated the 8th anniversary of the Restoration of Independence on the 20th of May 2010.
Speaking at the Presidential Palace in Díli, the President of the Republic, Dr. José Ramos-Horta, referred in his speech that "this anniversary constitutes a favourable moment to reflect in the difficulties that we have overcome. The Restoration of Independence gives us responsibility. This anniversary makes us reflect on the crises that we faced and serves as a lesson so that we don't repeat in the future, however divergent our opinions may be" said the President of the Republic.
The President of the Republic also highlighted that "we should all have the same thinking on the vital issues of our future. Therefore, I make an appeal to the Government to give incentive to dialogue, involving the opposition parties in the search of solutions for the problems of national interest, namely, in the justice, defence and security areas, for the development of the country".
In the same ceremony the President of the Republic decorated Mr. Lech Walesa, Peace Prize and former Polish President, and Dr. Nitin Verna, founder of the East Timor Eye Program, with the Collar of the Timor-Leste Order. He also decorated Mr. Yohei Sasakawa, leader of the Nippon foundation, with the insigne of the Timor-Leste Order.