Timor-Leste and Australia Prime Ministers' Meeting
Thu. 17 of February of 2022, 15:59h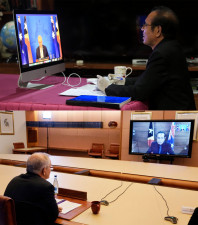 Prime Minister Taur Matan Ruak and Prime Minister Scott Morrison met virtually on Thursday 17 February 2022. The two Prime Ministers reaffirmed the fundamental importance of the Australia-Timor-Leste bilateral relationship, and noted 2022 marks twenty years of diplomatic relations between Australia and Timor-Leste. They welcomed the substantial expansion in cooperation between the two countries since Prime Minister Morrison's visit to Timor-Leste in August 2019.
The Prime Ministers discussed their appreciation for the strong and enduring friendship between the peoples of Timor-Leste and Australia, and reinforced the commitment both countries share to upholding democratic values.
Prime Minister Taur Matan Ruak expressed appreciation for Australia's comprehensive support for Timor-Leste's COVID-19 response, including deployment of Australian Medical Assistance Teams in April and September 2021, end-to-end support for Timor-Leste's national vaccine roll-out, and Australia's provision of vaccines for primary course doses and boosters. Australia has been the largest donor of COVID-19 vaccines to Timor-Leste.
The two Prime Ministers announced the commencement of a new five-year, AUD30 million phase of Australia's health sector support for Timor-Leste, to strengthen the delivery of primary health care services including to improve nutrition, hygiene and sanitation, and sexual and reproductive health. The Prime Ministers agreed to work together to support economic recovery from the pandemic.
Australia has provided AUD30 million in budget support and other assistance to Timor-Leste to maintain jobs and economic activity during the crisis, including funding for Timor-Leste's National Village Development Program enabling construction of community infrastructure such as irrigation systems, small bridges and roads in more than two thirds of all villages in Timor-Leste.
The Prime Ministers recognized the importance of strengthening critical infrastructure to promote Timor-Leste's longer-term economic prosperity. Prime Minister Taur Matan Ruak reiterated Timor Leste's commitment to the implementation of the Timor-Leste South Submarine Cable link to Australia to enable faster, more reliable, and more affordable internet services for Timor-Leste consumers and businesses, and welcomed Australia's offer of additional support for the delivery of the cable.
Prime Minister Morrison confirmed that Australia would also provide support for the redevelopment of Dili International Airport.
The Prime Ministers welcomed the announcement by Qantas Chief Executive Officer, Alan Joyce, that Qantas will establish a permanent commercial route between Darwin and Dili, with an increased number of flights, under the new Australia-Timor-Leste Air Services Agreement. These new flights will increase opportunities for trade, tourism and labour mobility between our countries.
The Prime Ministers discussed the importance of labour mobility in promoting economic recovery in both countries. Timor-Leste has a pool of more than 6,500 fully vaccinated workers ready to mobilise to Australia. The strong demand for workers in Australia is expected to lead to a substantial expansion in 2022 in the number of Timorese workers employed under the Pacific Australia Labour Mobility (PALM) scheme.
The Prime Ministers discussed the important contribution the exploitation of gas resources in the Timor Sea makes to both countries' economic prosperity, and the close cooperation between Australia and Timor-Leste under the Maritime Boundaries Treaty, which entered into force in 2019. Prime Minister Morrison committed to establish an LNG Partnership Fund to deepen links between Australia and Timor-Leste in gas development and trade, including in the use of carbon capture and storage.
The Prime Ministers discussed Australia and Timor-Leste's shared interests in an open, inclusive and resilient Indo-Pacific region where the rights of all states are respected, and where the sovereignty and independence of each country is upheld. They highlighted the resolution of the long-running dispute over maritime boundaries through the compulsory conciliation process under UNCLOS as a powerful example of the peaceful resolution of disputes in accordance with international law.
The Prime Ministers resolved to work together to prevent the Timor Sea from being used by illegal fishers, people smugglers and other transnational criminal actors. They committed to continuing to deepen cooperation on maritime security, and Prime Minister Morrison confirmed Australia's commitment to provide two Guardian class patrol boats, the Aitana and Laline, to Timor-Leste in 2023. They welcomed the work underway to prepare for the delivery of the two vessels, including infrastructure upgrades at Port Hera Naval Base on Timor-Leste's north coast.
The Prime Ministers discussed Timor-Leste's enhanced engagement with multilateral organisations, including its bids for membership of ASEAN and the World Trade Organization, and Australia's strong and longstanding support.