Minister of the Presidency of the Council of Ministers meets with Ambassadors of the European Union and Portugal within the UN Climate Conference
Fri. 15 of Outubro of 2021, 16:01h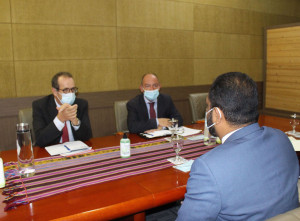 The Minister of the Presidency of the Council of Ministers, Fidelis Magalhães, met with the Ambassador of the European Union in Timor-Leste, Andrew Jacobs and with the Portuguese Ambassador in Timor-Leste, José Pedro Machado Vieira.
During the meeting held on October 14th, 2021, at the Government Palace, in Dili, the Minister and Diplomats reiterated the importance of the European Union and Timor-Leste working together to fight against climate change and its impacts.
Next November, the 26th UN Conference on Climate - COP26 will take place in Glasgow, Scotland. This Conference will gather representatives from 197 countries to discuss climate change and how countries intend to fight against it, in order to accelerate climate action to meet the Paris Agreement. Timor-Leste will be represented at COP-26 by the Secretary of State for Environment, Demétrio do Amaral de Carvalho.
Minister Fidelis Magalhães explained that environmental issues are a national priority, as defined in the Government's Program and because it is an integral part of the priorities for the 2022 General State Budget. Given that Timor-Leste has been increasingly buffeted by natural disasters, it is essential to increase national resilience to climate change and its impacts.
The Minister of the Presidency of the Council of Ministers also referred that the Government intends an economic growth based on the green and blue economies with a set of actions that promote a development based on social welfare, focused on the reduction of environmental risks and sustainability of oceans and coastal zones.
The Ambassadors of the European Union and Portugal recognized the efforts of the Government in promoting climate action and reaffirmed their willingness to continue to support Timor-Leste in this area.