Timor-Leste and United States sign agreements to rehabilitate Baucau airfield and to develop national civil aviation sector
Tue. 29 of June of 2021, 15:29h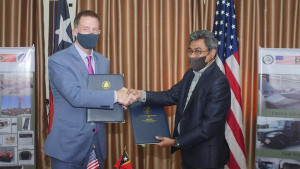 The Vice Prime Minister and Minister of Planning and Territory, José Maria dos Reis, and the Ambassador of the United States (U.S.) in Timor-Leste, Kevin Blackstone, signed two Memoranda of Understanding for bilateral cooperation for rehabilitation of the Baucau airfield and for the potential U.S. support for the development of the national civil aviation sector.
The signing ceremony took place on June 28th, at the Ministry of Planning and Territory, and was also attended by the Minister of Foreign Affairs and Cooperation, Adaljiza Magno.
Under these two Memoranda, Timor-Leste and the United States will start a joint project to rehabilitate the Baucau airfield.
The project, which has U.S. funding of US$ 10.6 million, includes the delivery of an aircraft, ground vehicles and other equipment.
To achieve the existing strategic objectives, the 8th Constitutional Government, through the Ministry of Planning and Territory, is also preparing a budget, through the Infrastructure Fund, to conduct feasibility studies for a future conversion of the Baucau airfield into an international airport.
This measure, integrated in the National Territorial Plan, aims to contribute to the creation of employment, small businesses and airport support activities. It will be a fundamental factor for the reinforcement of the city of Baucau within the Timorese urban hierarchy and for the diversification of the national economy, allowing for the dynamization of the regional economic network, ranging from the development of agri-food and extractive industries to tourism activities.
The Vice Prime Minister, in his intervention, highlighted the importance of this project "to achieve the great objectives of territorial planning for the region and to strengthen the city of Baucau, as the second city in Timor-Leste urban system, with high level facilities and services, that may promote the development of the regional economy and the settlement of the populations.
He also stated that "this infrastructure, of good quality, will allow national and international transport of people and goods, an essential factor for the implementation of the development model planned for Baucau, based on the development of sectors that need fast and efficient connections to other regions in Timor-Leste and abroad".
The Ambassador Blackstone stated that he was "proud of this close and mutual partnership between the United States and Timor-Leste" and noted that the signing of "these memoranda reflect the longstanding partnership between the United States and Timor-Leste in the areas of security and the economy."