Virtual roundtable discussion of Female Foreign Ministers on the impact of the COVID-19 pandemic on Women and Girls
Wed. 28 of April of 2021, 10:34h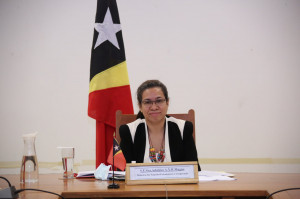 28th of April 2021 - The Minister of Foreign Affairs and Cooperation of the Democratic Republic of Timor-Leste, H.E. Dra. Adaljiza Magno attended a virtual roundtable discussion of Female Foreign Ministers on the impact of the COVID-19 pandemic on Women and Girls: A Focus on Human Trafficking.
The COVID-19 pandemic threatens to affect hard-won progress on gender equality through, among other things: widen the poverty gap between men and women, surge cases of gender-based violence and increase the risk of human trafficking globally, including of women and girls.
Considering the significance of women perspectives in leadership to complex policy issues, the Foreign Ministers Meeting was organized to serve as a platform to discuss the consequences of the COVID-19 pandemic for women and girls.
Minister Magno highlighted in her intervention the challenges posed by technology to women and girls, specifically in the context of human trafficking whereby perpetrators of human trafficking are adapting to the new normal by moving their activities online and increasing trafficking in cyberspace by taking advantage of increasing engagement online due to lockdown. While at the same time underlining the use of technology as an innovative means to tackle gender-based violence and human trafficking through online campaigning, providing help-lines and online psychological counselling, as well as virtual access to legal advice to the victims of gender-based violence, including victims of human trafficking.
The virtual meeting was co-organized by the Minister for Foreign Affairs and the Minister for Women of Australia; the Minister of Foreign Affairs, European Union and Cooperation of Spain. The meeting also attended by Deputy Prime Minister and Minister of Foreign Affairs, European Affairs, Foreign Trade and the Federal Cultural Institutions of Belgium; Deputy Prime Minister for Judicial Reform and Minister of Foreign Affairs of Bulgaria, Minister for Foreign Affairs and Communities of Guinea-Bissau, Minister of Foreign Affairs (MFA) of Andorra, MFA of Estonia, MFA of Libya, MFA of Sudan, Minister of Foreign Affairs, Education and Sport of Liechtenstein, Cabinet Secretary for Foreign Affairs of Kenya, Deputy Minister of International Relations and Cooperation of South Africa and Ambassador for Gender Equality and Coordinator of Feminist Foreign Policy of Sweden.