Minister of the Presidency of the Council of Ministers holds a meeting with the technical team responsible for the implementation strategy of the Unique ID
Tue. 16 of February of 2021, 12:09h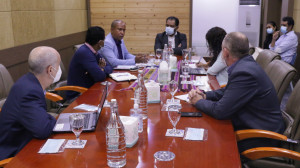 The Minister of the Presidency of the Council of Ministers, Fidelis Manuel Leite Magalhães, met with the Executive Director of TIC, Roberto Caetano de Sousa Vicente, and with the team of the temporary technical committee for the preparation of an integrated strategy aimed at the implementation of a system of unique identifier (Unique ID) of Timorese citizens.   
The Citizen's Unique ID System is part of the Public Administration Reform Program and constitutes the necessary basis for improving the effective provision, the efficiency and the planning of public services, and ensuring the best management and coordination of social policy, while contributing to the structured construction of e-governance in Timor-Leste.  
The Government, through the then Ministry of Legislative Reform and Parliamentary Affairs, had the initiative to request preparatory studies for the implementation of the unique identifier system. These studies were completed at the end of 2019 and postulate precisely a wide articulation of various ministries and services, for the harmonious and technically adequate development of the aforementioned unique identifier system.
This technical committee was created on March 19th, 2020, with the mission of completing an integrated strategy for the materialization of the referred unique identifier system, together with a detailed implementation plan and respective budget, to be submitted to the Council of Ministers. The Technical Committee is chaired by the Executive Director of the Public Institute TIC Timor and integrated by representatives of relevant ministerial lines.   
This meeting served to take stock of the project, evaluate the results already achieved and prepare the next steps, in order to finalize the implementation strategy for the Unique ID to be submitted soon to the appreciation of the Council of Ministers.
In the context of this preparation, several public consultations have been held with governmental and non-governmental organizations. On February 18th and 19th, the technical team will discuss the project with development partners and civil society, respectively.