Swearing in of the President and members of the Board of Directors of the National Press
Thu. 14 of January of 2021, 11:26h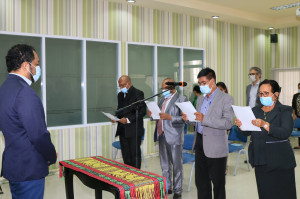 The Minister of the Presidency of the Council of Ministers, Fidelis Manuel Leite Magalhães, on January 14th, 2021, sworn in the Timor-Leste National Press, I.P. (INTL), Board of Directors' members, in a ceremony held in the Government Palace, in Dili.
Jaime Fernando dos Mártires Carvalho Correia, which until now held the position as the Director of this institution, was sworn in as the President of INTL's Board Directors, Beatriz Ximenes Martins, was took office as Vice President and member of Board Directors , Elídio da Cruz de Carvalho, will occupy  the position of member of the Board of Directors and Natalino Auxiliadora de Deus was sworn in as INTL's Sole Fiscal.
The Minister congratulated the newly sworn in, wishing them to continue a good work and expressed his satisfaction to achieve this important step to fulfil the dream and the ambition of transforming the National Press into a highly professional public institute.
Jaime Correia, now as the President of INTL, thanked the Government for trusting him in this appointment and promised, despite the great challenges that exist, to carry out this mission with great professionalism.
Created in 1960, with the name of "National Press", its mission was to publicize the  colonial government's official acts and to produce official forms. During the Indonesian occupation, maintained the same activity, under the name "Badan Percetakan Nasional". After the Democratic Republic of Timor-Leste's restoration of the independence, it was called "Gráfica Nacional". In 2013, started a transformation process, with the approval of its Strategic Plan for Restructuring and Modernization, with the objective of its gradual transformation into a modern and self-sustaining company. This process led to its entry into the national market in 2016, when started to provide graphic production services, also for private entities. In 2017, it becomes a Public Institute and changes its name to which it is now known, " National Press of  Timor-Leste".