Minister of the Presidency of the Council Ministers meets with the Ambassador of Brazil
Thu. 19 of November of 2020, 16:43h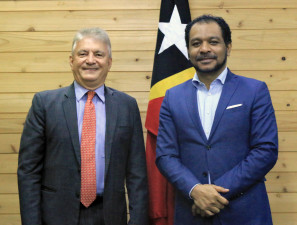 The Minister of the Presidency of the Council of Ministers, Fidelis Manuel Leite Magalhães, met, on November 18th, 2020, with the Ambassador of Brazil in Timor-Leste, Aldemo Garcia.
During the meeting, the Diplomat, who ends, this month, his mission in Timor-Leste, praised the path of democratic consolidation in Timor-Leste and highlighted the results of the Freedom House report, that point Timor-Leste as the most democratic country in Southeast Asia, recalling the various fair and transparent elections that took place and the peaceful transfer of power between different parties.
The Ambassador also reaffirmed Brazil's willingness to support Timor-Leste in several areas of technical cooperation, namely in terms of the development of the agricultural sector, with cooperation with the Brazilian Cooperation Agency (ABC) and with the Brazilian Agricultural Research Corporation (Embrapa), by sending technicians to Timor-Leste and with the creation of an agricultural research centre. Aldemo Garcia highlighted the big transformation of the agricultural sector in Brazil, which has allowed, over the past 40 years, the country to move away from being a food importer to becoming a major world exporter.
The Minister thanked the Ambassador for the work carried out in the last four years in Timor-Leste and expressed his desire to intensify cooperation with Brazil in the future.
The diplomat reiterated Brazil's support for the process of Timor-Leste's accession to the World Trade Organization and stated that Timor-Leste also has Brazil's support in the process of accession to ASEAN, through its diplomats present in the various member countries of the Association of Southeast Asian Nations.