Secretary of State for the Environment participates in a Portuguese-speaking conference on energy and climate
Thu. 01 of Outubro of 2020, 11:05h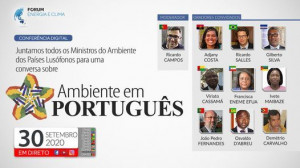 The Secretary of State for the Environment, Demétrio do Amaral de Carvalho, participated, representing the Timor-Leste's Government, on October 1st, 2020 (Timor-Leste time), in the Digital Conference "Environment in Portuguese"  ("Ambiente em Português"), within the scope of the Energy and Climate Forum.
The meeting, which took place via videoconference, brought together all those responsible for the Environment Ministries of the Portuguese speaking countries: Angola, Brazil, Cape Verde, Guinea-Bissau, Equatorial Guinea, Mozambique, Portugal, São Tomé and Príncipe and Timor- Leste.
The event closed the cycle of 23 digital conferences on solutions to the climate crisis, promoted by the Energy and Climate Forum, which, since April, has brought together experts from different countries with the purpose of gathering contributions from Science, Politics, Businesses and Civil society. With the results of the debates, the Forum now intends to build work teams, with the objective of producing proposals for change and climate action projects.
In his speech, the Secretary of State for the Environment reaffirmed Timor-Leste's commitment to increase the goals of renewable energy supply in Timor-Leste, as established in the Strategic Development Plan 2011-2030 (SDP).
Despite efforts to meet the SDP targets, Timor-Leste is still dependent on fossil fuels for powering national electrification.
However, Timor-Leste is targeting to achieve 50% renewable energy use by 2030, across the nation.
The Secretary of State explained that the Government has defined 26 priority actions related to the environment, and that two of them refer to renewable energies, namely the implementation of feasibility studies countrywide, and the development of pilot projects for the production of renewable energies.
The Ministry of Public Works, responsible for the area of electricity, during the period from 2020 to 2021, is installing 3,000 units of solar panels in family homes in remote and isolated areas of the country.
The 8th Government has been also trying to capitalize external funds for environmental activities.
In 2018, a memorandum of understanding was signed with private sector entities to build a solar panel platform in Timor-Leste, which allows to contribute with 26MW, reaching 30% of the total desired.
The Secretary of State also added that a 2011 study mentions that Timor-Leste has the potential to capitalize on renewable energy, with a capacity greater than 400MW, which can ensure access across the country to electricity from renewable energy sources.
To face the global climate crisis, Timor-Leste, in 2007, ratified the United Nations Framework Convention on Climate Change (UNFCCC) and has since developed legislation and regulations to combat climate change. In 2009, Timor-Leste produced its national plan for adapting to climate change, which also includes actions related to renewable energies.