Retreat of the VIII Constitutional Government
Sat. 27 of June of 2020, 09:10h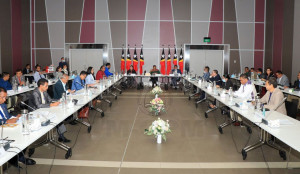 On June 26 and 27, 2020, the members of the VIII Constitutional Government will be meeting in a retreat in the auditorium of the Ministry of Finance.
This retreat takes place after the swearing-in of the new members of Government on Wednesday, June 24, 2020, which completed the structure of the Timorese Executive. It aims to introduce participants to the concepts and basic notions about state and nation building, leadership and governance, planning, as well as ongoing reforms.
The priorities to be implemented by 2023 and to be reflected in the General State Budget will also be discussed by the members of the Executive.
The preparation of the General State Budget for 2020 is currently underway.