Government and National Parliament discuss extraordinary withdrawal from the Petroleum Fund
Thu. 18 of June of 2020, 16:55h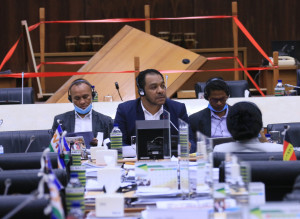 Hearings with members of the Government and of the Committees C, D and F of the National Parliament, took place on 16 and 17 June, for initial consideration of Draft Law No. 17/V (2nd), on the second extraordinary transfer of funds from the Petroleum Fund in the financial year 2020 and the first amendment to Law No. 2/2020 of 6 April on the authorisation for an extraordinary transfer of the Petroleum Fund.
The draft law was submitted by the Government to the National Parliament on June 10, with a request for scheduling and processing of the legislative process with priority and urgency.
The Proposed Law seeks authorization for an extraordinary transfer from the Petroleum Fund to the General State Budget, in the amount of US$286,800,000, to ensure sufficient financial conditions for the normal functioning of the Public Administration until the approval of the General State Budget for 2020. This takes into account that revenue stemming from tax revenue and the balance of the previous year's budget implementation, supplemented by the extraordinary transfer of the Petroleum Fund, authorized by Law No. 2/2020 of 6 April, are insufficient to finance the regular activity of the Public Administration beyond August and that the amount allocated to the budget of the COVID-19 Fund does not cover all the expenditure foreseen with covid-19's pandemic prevention and control measures.
Commission C, which deals with public finance matters, Commission D, dealing with matters of Economics and Development, and Commission F, which deals with Health, Social Security and Gender Equality issues, held a joint hearing on June 16 with the Minister of Finance, Fernando Hanjan, the Deputy Minister of Finance, Sara Lobo Brites, the Minister of Health, Odete Maria Freitas Belo, the Governor of the Central Bank of Timor-Leste, Abrão de Vasconcelos, as well as the heads of the Covid-19 Fund Management Council.
On June 17, it was the turn of the Deputy Minister of Solidarity and Inclusion, Signi  Chandrawati  Verdial, and the Minister of the Presidency of the Council of Ministers and Coordinating Minister of Economic Affairs, Fidelis Manuel Leite Magalhães to meet with the members of the National Parliament.
During the hearings the members of the Government responded to the doubts and suggestions of members and presented the results of the implementation of the COVID-19 Fund and the implementation of the economic stabilisation measures necessary to address the negative impacts of COVID-19 on the national economy.
Commission C will now draw up the report and opinion on the Draft Law with the debate and the vote in general scheduled for the 22nd of June, and the specialty and final vote on June 23, before the final text is sent to the President of the Republic.