Timor-Leste participates in Expo 2020 Dubai preparation meeting
Sun. 01 of December of 2019, 09:22h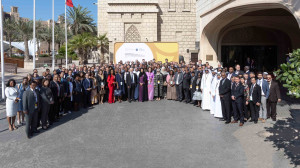 A delegation from Timor-Leste took part, between November 29 and 30, in the International Participants Meeting (IPM) at Expo 2020 in Dubai.
The Timorese delegation to the fourth IPM, led by the National Expo Authority 2020 Dubai, Francisco  Kalbualdi Lay, was among 1,000 participants from around the world, including members and government officials, country delegates and business partners from about 200 participating countries and organizations, as well as representatives of the International Bureau of Expositions, BIE and members of the Expo 2020 Dubai Senior Committee.
During the two days of the event, participants had access to information on progress in the construction of the global showcase and on calendars and deadlines for delivery, requirements and standards to be met, programming, design, marketing, communication and logistics. Technical meetings also took place with the heads of Expo 2020 for each country to deepen the themes addressed and for clarifying technical doubts for the preparation of the exhibitions and programs of each nation.
Expo Dubai 2020 will take place in Dubai, United Arab Emirates, between October 20, 2020 and April 10, 2021 and will be the first World Exhibition to be held in the Middle East. Under the motto "Uniting minds, creating the future" and with the subthemes "Mobility", "Sustainability" and "Opportunity", Expo 2020 will have the participation of 192 countries with 25 million visitors expected, of which 70% foreigners.
Timor-Leste will be present in the thematic area "Opportunity", with the theme "Timor-Leste, Explore  the  undiscovered", in an event of enormous international projection, which will allow Timor-Leste to promote its culture, its landscapes and natural riches, its products, its crafts with millions of people, attracting potential investors and visitors.
UAE Minister of State for International Cooperation and Director General of Expo 2020, Reem Al Hashimy, said that "next year, Dubai and the United Arab Emirates will bring the world together for a World Expo that promotes collaboration and proposes to create an open global dialogue that allows us to look to the future with renewed optimism".
Reem Al Hashimy added that "each of the 192 participating countries has their perception, innovative experiences and ideas that have a role to play in creating a better future. Bringing together 1,000 representatives here in Dubai for this International Meeting of Participants reflects the commitment to collaboration, open dialogue and the optimism that Expo 2020 Dubai incorporates".
Vicente Loscertales, Secretary General of BIE, the governing body of World Exhibitions, said: "Expo 2020 Dubai's ambition to welcome all countries in the world to collectively celebrate human progress is remarkable. This two-day meeting will lead us through some of the final aspects of the preparation and implementation for the delivery of this transformative event".
"Arriving less than a year before the opening of Expo 2020, for a six-month celebration that will bring together nations, show solutions, exchange ideas and promote cultural discoveries, this PMI is particularly significant. We look forward to hearing the contributions that Expo 2020 Dubai and International Participants from around the planet will make for this global opportunity to help shape our future together",  added Vicente Loscertales.