Minister of Foreign Affairs and Cooperation Hosts Inter-ministerial Working Lunch on ASEAN Accession
Wed. 14 of August of 2019, 15:20h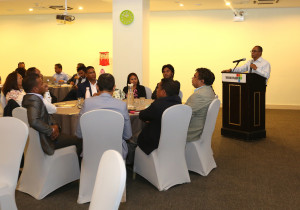 Timor-Leste's Minister of Foreign Affairs and Cooperation, H.E. Dionísio Babo Soares, hosted an inter-ministerial working lunch on ASEAN accession on 13 August 2019 at Timor Plaza Hotel.
During the lunch meeting, Minister Babo Soares briefed his fellow ministers on the progress of ASEAN accession process and the preparation for receiving the Fact-finding Mission on Timor-Leste's technical preparedness in early September.
Attending the meeting were members of the government accompanied by their respective technical Directors and Advisers working on ASEAN related issues.
In addition to the High-Level political commitment for ASEAN accession, Timor-Leste is implementing an extensive technical work program to ensure the country's readiness across each of the three community pillars: ASEAN Economic Community, ASEAN Political-Security Community and the ASEAN Socio-Cultural Community.
 ASEAN membership is a national and strategic priority for Timor-Leste and the country is hopeful that regional integration will not only benefit Timor-Leste, but that it will also benefit the greater ASEAN region. Last week, Minister Babo Soares presented updates and work plan on the accession process to the Council of Ministers, where His Excellency reiterated the importance of 2019 as a critical year for Timor-Leste in its preparation to join the ASEAN family of nations. REMATA