Government meets with Timorese Episcopal Conference
Mon. 05 of August of 2019, 15:36h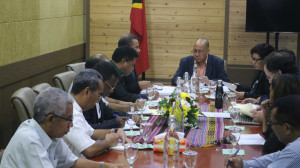 The Minister of State of the Presidency of the Council of Ministers and Acting Minister for Foreign Affairs, Agio Pereira, accompanied by the Acting Minister of Finance, Sara Lobo Brites and the chief of Staff of the Office of the Prime Minister, met with representatives of the Timorese Episcopal Conference (CET), today, August 5, 2019, at the Government Palace in Dili.
The meeting aimed to discuss issues related to the annual agreement between the Government and the Timorese Episcopal Conference and the creation of two teams, one from the Government and the other from the CET, for discussion and production of an Annual Agreement and the successive agreements to be signed by the Prime Minister and the President of the CET, after approval in the Council of Ministers and prior authorization of the Holy See.
The meeting also included the participation of the Chief of Staff of the Office of the Prime Minister, Afonso Corte Real, the national director of the Ministry of Foreign Affairs, Josefina Tilman, the spokesman for CET, Jovito Rêgo de Jesus Araújo and other Members of the CET.