Government Institutions and DLA Piper experts discuss national air links
Thu. 30 of May of 2019, 16:16h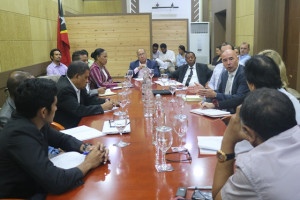 The Minister of State for the Presidency of the Council of Ministers, Agio Pereira and the Minister of Transport and Communications, José Agustinho da Silva, met today, May 30, 2019, at the Government Palace in Dili, with a team of experts from DLA Piper, with the Chairman of the Board of Directors of the Civil Aviation Authority of Timor-Leste (AACTL), Ana Rosália Ximenes Varela, with the President of the Airport Administration and Air Navigation of Timor-Leste (ANATL EP), Romualdo da Silva and officials from other relevant institutions.
Following the meeting held between the Prime Minister and the Minister of State with DLA Piper experts, on May 23, 2019, this second meeting sought to find strategies for the implementation of the existing policies and plans of AACTL and ANATL for the national civil aviation sector, to ensure air transportation and avoid the isolation imposed by the competitive market of the airline industry.
AACTL is the Public Institute responsible for the supervision, regulation and inspectionof civil aviation in Timor-Leste and ANATL is the public company that is responsible for the development and management of airport and air navigation infrastructures.
DLA Piper is a global law firm with lawyers in over 40 countries in the Americas, Europe, the Middle East, Africa and Asia Pacific and with clients around the world.
The meeting was also attended by three experts from DLA Piper, Stewart Winspear, Peter Ashford and Emilie Barton, representatives from the Ministry of Planning and Strategic Investment, the Presidency of the Council of Ministers, the Ministry of Foreign Affairs and Cooperation, the Office of the Coordinating Minister of Economic Affairs and of the Maritime Borders Office.