International Conference on Development of Religious Tourism in Timor-Leste
Fri. 17 of May of 2019, 17:13h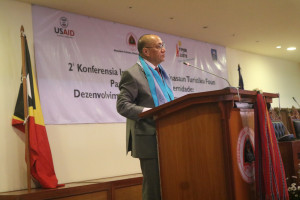 The second international conference on emerging tourist destinations was held on May 17 at the Dili Convention Center, under the theme "Peace Tourism, Harmony and Fraternity: Development of Religious Tourism and Pilgrimage". The Minister of State for the Presidency of the Council of Ministers and Acting Minister of Tourism, Trade and Industry led the official opening of the event that included the participation of political and religious leaders and experts in the area of ​​national and international tourism.
The conference was organized by USAID in cooperation with the Ministry of Tourism, Commerce and Industry and the Dili Institute of Technology (DIT). Its main objective was to deepen the untapped potential of Timor-Leste for the tourism market as a form of diversification of the national economy.
Timor-Leste has places such as the Cristo Rei and the shrine of the Virgin Mary on Mount Ramelau, located in places of great natural beauty and the different religious communities in the country have harmonious relations between them, making religious tourism a good option in the context of society.
The Minister of State, in his opening address, emphasized the "importance of this event for sharing experiences and acquiring knowledge about Timor-Leste tourism, especially religious tourism, and its relationship and potential for tourism. development and socio-economic growth of the country". He also added that the purpose of this type of tourism is to foster dialogue between people and cultures and that this should be sustained in a solidarity tourism to support the sustainable development of local communities.
Agio Pereira stated that "it is imperative to invest in young people, to ensure technical training and to diversify tourism activities" and "to establish complementary initiatives, strategies and equipment that contextualize architecture and art in all its components: functional, liturgical and symbolic
The Minister of State reaffirmed that "the Government has demonstrated its strong commitment to this emerging global tourism area by determining in the Strategic Development Plan for the period from 2011 to 2030 that religious tourism is one of the priority objectives of the National Tourism Policy".
The Conference was attended by the Minister of Defense, Filomeno da Paixão de Jesus, the Acting Minister of Finance, Sara Lobo Brites, former President of the Republic, José Ramos-Horta, former Minister of Tourism, Manuel Florêncio da Canossa Vong, leaders of the various religious denominations in the country, PNTL and F-FDTL representatives, international experts in religious tourism and development partners.