SECOMS begins Training on Communication, Media and New Information Technologies
Mon. 11 of March of 2019, 10:06h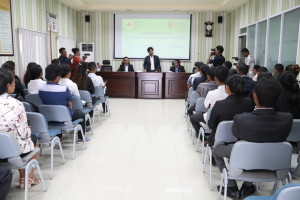 The Secretary of State for Social Communication (SECOMS), Merício Juvenal dos Reis "Akara", opened this Monday, March 11, in the auditorium of the Presidency of the Council of Ministers, the National Qualification Course in Communication and Media for the public sector level IV of INDMO (National Institute for Development of Manpower) and the course of Communication and New Information Technologies for the public and private sectors.
The courses are promoted by the Center for Technical Training in Communication (CEFTEC) and will run until October 2019. The first two modules of the training sessions last 80 hours and relate to Press Writing and Communication, Public Relations and Protocol.
In the scope of these trainings modules in the areas of Radio, Television, Multimedia, digital photography, graphic design, video, Portuguese language and Tetum language will also be taught.
The Secretary of State, in his speech, said that these courses aim to train and deepen the knowledge of Ministries officials in the practice of press writing, public relations and protocol to ensure the quality of their work based on the standards of INDIMO.
"The state gives participants the opportunity to attend training, but they must also be disciplined in the way they use their time," he said.
Merício "Akara" also praised the CEFTEC trainers for the courses they teach and for sharing their experience, both theoretical and practical.
The Director of CEFTEC, Luís Evaristo Soares, recalled that the training is aimed at all ministerial employees and stressed the positive impact of the courses on their work.
Twelve women and four men attend the Press Writing module and in the module of Communication, Public Relations and Protocol, there are thirteen female and six male participants.