136 Timorese workers leave for South Korea
Thu. 28 of February of 2019, 08:30h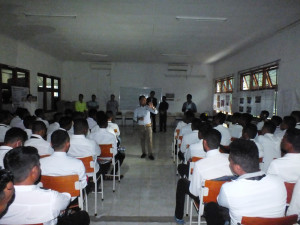 The Secretary of State for Vocational Training and Employment, Julião da Silva, participated on the 28th of February in the farewell ceremony of 136 East Timorese who will be working in South Korea.
Ninety Seven of these workers will work in the fishing sector and 36 in industry, and they are expected to start on March 12.
The Secretary of State called on workers "not to get involved in any criminal act and that if this happens they will be withdrawn from the program and will not again have opportunities to work abroad".
Julião da Silva also asked workers to go abroad to "act ethically, responsibly and diligently in their jobs because they represent the country and the Timorese people".
The Secretary of State also thanked the South Korean Government, through the Ambassador of South Korea in Timor-Leste, for "the great effort in sending Timorese workers to work in Korea, allowing to reduce national unemployment".