117 graduates receive certificates in the maritime industry and civil construction sectors
Fri. 01 of March of 2019, 16:54h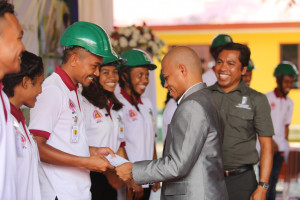 The State Secretary for Vocational Training and Employment (SEFOPE), Julião da Silva, accompanied by the Minister of Transport and Communications, José Agustinho da Silva, and the Secretary of State for Social Communication (SECOMS), Merício Juvenal dos Reis "Akara" , participated in the ceremony for the presentation of certificates from the maritime and civil construction industry to 59 trainees from the Instituto Politécnico de Betano (IPB), 34 from the maritime sector and 24 from F-FDTL, on March 1st at the Centro de Formação de Tibar CNEFP, Tibar).
In his speech, Julião da Silva, reiterated "the commitment of the Eight Constitutional Government, through SEFOPE, to increase investment in human resources, so that they can respond to the needs of the national and foreign labor market". The Secretary of State added that "this is a contribution to the development of the nation and to reducing the number of unemployed in Timor-Leste". Emphasizing that "in addition to the importance of the private sector, the Government must also employ these human resources".
Julião da Silva called on "International Agencies, Ministries and private sector officials to open more places and not only seek people with professional experience, in order to give young people opportunities".
Finally, the Secretary of State thanked the CNEFP-Tibar "for the various training actions that give the opportunity to young people to increase their skills in various areas" and thanked "the German cooperation agency (GIZ) for the strong support it has given to the Government of Timor-Leste in the training of young East Timorese".