IDN promotes debate on Strategy and honors Xanana Gusmão within the academic week of the institute
Mon. 04 of March of 2019, 16:55h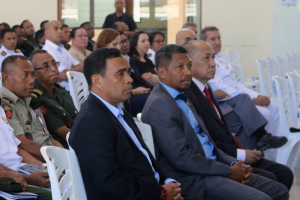 The Academic Week of the Institute of National Defense (IDN) will take place on the 4th and 5th of March in the Hall of St. Joseph in the Cathedral of Díli. On the first day, in an event called the "Strategy Day", national and international experts discussed the theme "Political Instability and Strategic Surprise" and paid tribute to National Resistance leader Kay Rala Xanana Gusmão as part of the Veterans Day Commemorations.
The IDN is responsible for the study, investigation and teaching of National Defense matters, contributing to the dissemination and debate of the major national problems and the international situation affecting National Defense.
The Minister of State for the Presidency of the Council of Ministers, Agio Pereira, on behalf of the Prime Minister, in the opening address of the event, began by congratulating the IDN students and acknowledging IDN's contribution "to the valorization and training of the Armed Forces and Security Services, as well as of their senior staff and civil servants, government agencies and others in civil society", underlining "the development, that has occurred in only a few years, of the excellence of this institute".
The Minister of State highlighted the opportunities that Timor-Leste has "knowing how to capitalize on the experience and capital of the region, (…) vibrant in innovation and commerce and instrumental to regional security", as well as "investment opportunities and development for the country with the signing a year ago of the historic Treaty between Timor-Leste and Australia on their respective permanent maritime borders in the Timor Sea".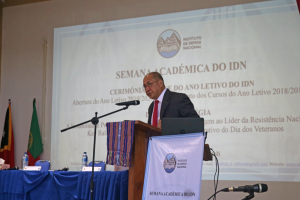 Agio Pereira ended his speech by honoring Kay Rala Xanana Gusmão for his role as Head of the East Timor Negotiating Team, to whom the great part of the success achieved is owed, as well as for his role as a leader of the National Resistance, which, through "the convergence of ideas, priorities, sense of mission and, above all, concerted and strategic actions, embodied in the concept of National Unity, have led to our freedom; the freedom of the Timorese people".
The event was attended by Professors Heitor Barras Romana and Manuel Meirinho Martins, President and Chairman of the Scientific Council, respectively, of the Higher Institute of Social Sciences of the University of Lisbon, José Ramos-Horta, Former President of the Republic, Aurélio Guterres, Former Minister of Foreign Affairs and Cooperation, Avelino Coelho, Former Secretary of State for the Council of Ministers, Francisco Miguel Martins, Rector of the National University Timor Lorosa'e (UNTL) and IDN Director Donaciano Costa Gomes.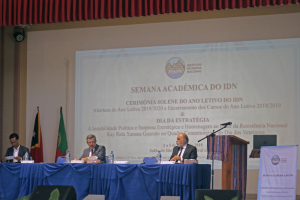 On Tuesday 5 March, there will be an opening ceremony of the 2019/2020 school year and the closing of the courses of the 2018/2019 school year, during which it is expected the intervention of the Minister of Defense and Acting Minister of the Interior, Filomeno da Paixão de Jesus.