Government signs partnership for shrimp production in the municipality of Ainaro
Tue. 04 of December of 2018, 16:27h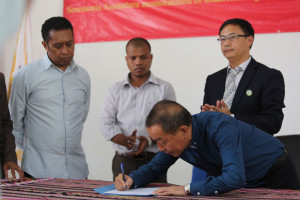 The Secretary of State for Vocational Training and Employment (SEFOPE), Julião da Silva, signed a Memorandum of Understanding (MoU) on 4 December 2018 with the Chinese company Yuan Long Ping High-Tech Agriculture Co. Ltd. for a shrimp farming project, in the Administrative Post of Hatu-Udu, Municipality of Ainaro.
Julião da Silva thanked, on behalf of the Timorese Government, the contribution of the company Long Ping, through this project, to create jobs for the East Timorese. An important contribution to achieving the commitment of the Eight Constitutional Government to create 60,000 jobs per year for Timorese.
The Secretary of State also added that the Eight Constitutional Government, through SEFOPE, plans to create training actions for young people, thus improving their capacities, so as to guarantee the quality of human resources so that they can be employed by the entrepreneurs who invest in our country, such as Long Ping company.
After signing the MOU, the Secretary of State and his delegation also visited a Training Center, founded by mothers, in the municipality of Ainaro, Administrative Post of Ainaro, which provides training to young people in the administration area. Julião da Silva also visited a restaurant, built with the support of SEFOPE, to directly observe the problems it faces.