SECOMS begins training on the promotion of gender equality
Thu. 27 of September of 2018, 08:24h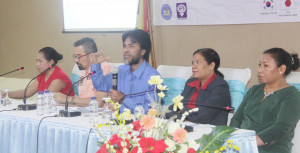 The Secretary of State for Social Communication (SECOMS), Merício Juvenal dos Reis "Akara", opened the training for Timorese journalists under the theme "Promoting gender-sensitive journalism", organized by the Caucus Foundation and Movimentu Feto Foin- Sa'e (MOFFE) [Youth Organization Movement]. The event took place on September 25, 2018, in the Tower space, in Fatuhada, Díli. The training ended on the 27th.
Merício "Akara" said that the training aims to deepen the knowledge of journalists on gender equality, so that they are more sensitive to that issue in their activities, especially in the news they produce.
SECOMS reminded participants that women's organizations collaborate with the United Nations Development Program (UNDP) in promoting the involvement of women in political life, especially potential future leaders, who will participate in decision-making in state institutions and policies and in media.
The Secretary of State also stressed that the Government will support the gender equality movements to combat domestic violence, saying that the media play a key role in raising the public's awareness of the bad social behaviors that result in forms of aggression within the family.
The Director of Caucus, Paula Corte Real, said that the training addresses issues such as coverage strategies and gender-sensitive reporting, promotion of the profile of potential women for future leaders, and use of the best terms to raise awareness in the Timorese society for gender issues. It was for this reason that Caucus and MOFFE invited trainers who have specific knowledge on the subject.
Also present at the ceremony were MOFFE Director Yacinta Lujina and the Head of the UN Electoral Assistance Project in Timor-Leste (UNDP-LEARN), Andréas del Castillo Sánchez.