Book on the conciliation process on maritime borders launched by Xanana Gusmão
Fri. 31 of August of 2018, 17:32h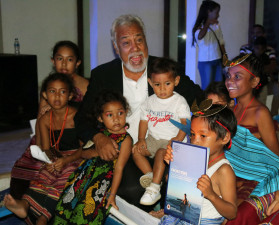 The book that narrates the reconciliation process between Timor-Leste and Australia and which led to the signing of the historic treaty that established the definitive maritime boundaries in the Timor Sea based on International Law was officially launched on August 30, 2018 by Xanana Gusmão, Head of the Negotiating Team of the Council for the Definitive Delimitation of Maritime Borders, at a ceremony held at the Timorese Resistance Archive and Museum, in Dili.
The book is entitled "New Frontiers - Timor-Leste's Historical Conciliation on Maritime Borders in the Timor Sea" and was produced by the Maritime Borders Office of the Council for the Definitive Delimitation of Maritime Frontiers .
The mandatory conciliation process was initiated by the Government of Timor-Leste in April 2016, under the aegis of the United Nations Convention on the Law of the Sea, with Timor-Leste being the first country in the world to use this mechanism created by the Convention.
The Maritime Borders Treaty, signed on 6 March 2018, ensures a mid-line in the Timor Sea with only a slight adjustment to achieve a fair outcome as required by international law.
The agreed maritime borders allow all future revenues from the Buffalo field to the west and from the fields in the Joint Petroleum Development Area, including the Bayu-Undan and Kitan fields, to be transferred to Timor-Leste. Under the agreement, resources at Greater Sunrise are shared between Timor-Leste and Australia. Most of Greater Sunrise's resources are located in the maritime area of Timor-Leste, so most of the revenue will also come to Timor-Leste. The two countries are currently conducting a separate process, through which they intend to negotiate and agree on the terms of trade for the development of Greater Sunrise.
Xanana Gusmão, in his speech, recalled that the launch of this book occurs "on a special day celebrating 19 years of the popular decision, which after 24 years of struggle led to independence, "and paid tribute to "national heroes for their sacrifice , courage and will during the struggle" for national liberation. The chief negotiator also acknowledged the "very important role played by international solidarity" and recalled Kofi Annan, who died this month, "who will forever be linked to the history of Timor-Leste" for his "importance in the process of liberation", for his efforts for the international recognition of the right to self-determination, and in the process leading up to the 1999 referendum.
"The new treaty that defines permanent maritime borders with Australia lays solid foundations for Timor-Leste to leverage its prosperity. With fair and stable maritime borders, Timor-Leste can now move forward with confidence to realise the potential of its seas and the promise of its independence. "(Book's closing sentence)
To see the video explaining the process of negotiating Timor-Leste's maritime borders, click here.
For more information on the process of negotiating Timor-Leste's maritime borders, click here.