Australia's Foreign Minister Visits Timor-Leste
Tue. 31 of July of 2018, 10:27h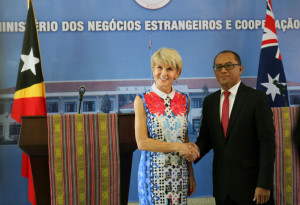 The Minister of Foreign Affairs and Cooperation, Dionísio Babo Soares, received his Australian counterpart, Julie Bishop, and accompanied the Minister on her first official visit to Timor-Leste, held from July 29 to July 31.
Dionísio Babo Soares and Julie Bishop welcomed the historic signing of the Treaty between Australia and the Democratic Republic of Timor-Leste, which established the maritime borders in the Timor Sea, signed in New York on 6 March 2018, pledging to give priority to the ratification of the Maritime Boundary Treaty and to continue the discussion on the development of Greater Sunrise resources.
The two Ministers said they were committed to begin a new chapter in bilateral relations to strengthen ties and deepen relations and partnerships between Timor-Leste and Australia, focusing not only on close bilateral cooperation but also on joint work in the Indo-Pacific region and globally. They also pledged to maintain a regular dialogue between their governments to follow up on bilateral priorities. The two countries' Foreign Ministers agreed to deepen bilateral economic partnership in line with Timor-Leste's priorities to broaden the economic base in East Timor and to improve and simplify investment and the business environment.
Dionísio Babo Soares and Julie Bishop also reaffirmed the commitment of both countries to regional security and to the protection of their shared maritime domain by strengthening defense capacity and law enforcement by enhancing the exchange of information and security cooperation protection of maritime resources and to combat common threats such as transnational crime.
At the multilateral level, the ministers committed themselves to boosting trilateral economic cooperation with Indonesia to maximize trade and investment opportunities with a view to enhance regional economic integration between Timor-Leste, Indonesia and Australia, to strengthen concerted action and cooperation in regional and international forums and to collaborate in the United Nations system in the preparation of Timor-Leste's contribution to international peacekeeping missions. Bishop reiterated Australia's support for Timor-Leste effort's in joining the Association of Southeast Asian Nations (ASEAN), the World Trade Organization (WTO) and a future candidature from Timor-Leste to the Commonwealth.
Dionísio Babo Soares expressed gratitude and appreciation for Australia's continued commitment and support to Timor-Leste's socio-economic development and Julie Bishop reiterated Australia's commitment to continue to be an effective and reliable development partner for Timor-Leste. It also committed to implement a new Development Partnership Agreement to support Timor-Leste's priorities for social and economic development.
Dionísio Babo Soares and Julia Bishop will jointly prepare the commemorations of the 20th anniversary of INTERFET's arrival in Timor-Leste, to take place in 2019, seizing the moment to reflect and celebrate the remarkable success of East Timor as a sovereign and independent state.
During her stay in Timor-Leste, Julie Bishop visited several projects supported by the Australian Agency for International Development and held courtesy visits with the President of the Republic, Francisco Guterres Lú Olo, the Prime Minister, Taur Matan Ruak, and the leader of the opposition, Marí Alkatiri.