The Seventh Constitutional Government congratulates the Timor-Leste National Under-21 Football Team
Tue. 08 of May of 2018, 16:09h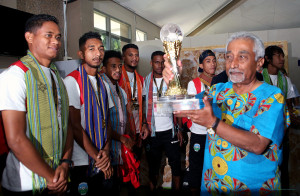 The Seventh Constitutional Government congratulates the Timor-Leste National Under-21 Football Team, who won the 2018 Hassanal Bolkiah Tournament in Bandar Seri Begawan, Brunei Darussalam, on 5th May 2018.
"The Seventh Constitutional Government would like to congratulate our National Under-21 Football Team that won the Hassanal Bolkiah Youth Tournament of ASEAN 2018," said the Prime Minister, Marí Alkatiri. "It is the first time in Timor-Leste's history that the Under-21 National Soccer Team has reached the final and becomes champion."
The Prime Minister stated that the current Government views sport as an important area for human development and the process of nation building. "The Program of the Seventh Constitutional Government affirms that the human formation is based on the development of personal and social competences such as self-confidence, respect, responsibility, compliance with social norms, among others", said Marí Alkatiri. He also added that "Sport is a means for the development of those skills, and therefore is also an important area for the development and aggregation of the population."
According to the Seventh Constitutional Government Program, with regard to the Sports sector, the Government aims to plan actions for the continuation of school sports at national level and community sport at the municipal level, also continuing to support participation in ASEAN university games and the CPLP. It also aims to develop the conditions of municipal school clubs and sports facilities, promoting the various areas of children's and youth sports, such as football, volleyball, basketball, tennis, table tennis, badminton and others. The Government also intends to identify and develop talents, as well as to support and encourage high competition.
The 2018 Hassanal Bolkiah Tournament is hosted by the Prime Minister of Brunei Darussalam, Sultan Hassanal Bolkiah, and is dedicated to the Youth of the ASEAN member countries. This tournament is held every two years. Although not yet a member of ASEAN, Timor-Leste participates in that sporting event since the Restoration of Independence in 2002.
The tournament was attended by seven nations, Cambodia, Laos, Myanmar, Singapore, Thailand, Timor-Leste and Brunei Darussalam as host country. Four countries (Philippines, Indonesia, Malaysia and Vietnam) failed to secure their participation given the commitments made in their respective national leagues.
Tournament is jointly organized by the Ministry of Culture, Youth and Sports of Brunei Darussalam and the National Football Association of Brunei Darussalam, with the support of the Asian Football Confederation and the ASEAN Football Federation. ENDS