18th anniversary of PNTL- National Police of Timor-Leste
Tue. 27 of March of 2018, 15:53h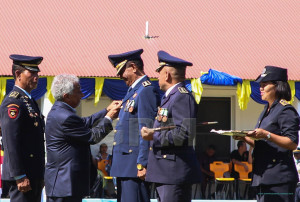 The National Police of Timor-Leste (PNTL) celebrated its 18th anniversary on March 27, at the Police Training Center, in Comoro, Dili.
On the morning of the previous day, March 26, Thanks Giving mass was celebrated in Santo António Chapel and tribute was also given at the PNTL Monument of Martyrs.
On the 27th, during the ceremony of the PNTL anniversary celebration, promotions and certificates of commendation and decorations were awarded to commissioners and members of PNTL, to the General Chief of Staff of the Defense Forces, Major General Lere Anan Timur and to Badan Narkotik from Indonesia, handed out by the President of Republic, Francisco Guterres Lú Olo, by the National Parliament President, Aniceto Guterres, by the Prime Minister, Marí Alkatiri, by the Minister of Defense and Security, Agostinho Sequeira Somotxo, by the PNTL General Commissioner, Júlio Hornay, by the President of the Court of Appeal, Deolindo dos Santos and by the Assistant Attorney General, Zelia Trindade.
During his speech, the PNTL General Commissioner, Júlio Hornay, manifested his recognition to "the State and Government for its effort and dedication towards stability and peace in the country" and thanked the Prime Minister and the Minister of Defense and Security for the full support given to PNTL. Julio Hornay highlighted the institution's progress over time and appealed to all members of PNTL to work hard to ensure stability and security across the country during the next early elections.
The President of the Republic, Francisco Guterres Lú Olo, congratulated all PNTL members "who dedicate themselves daily to the public cause and defend the democratic rule of law and freedom, dedicating all their capacity to serve the country and the Timorese". He pointed out that "just as it is stated in the Timorese Constitution, citizens have the right to live in peace and security and the State has the duty, through the Police, to defend citizens' rights, democratic legitimacy and the country's security". Francisco Guterres Lú Olo also said that" the democratic process is now facing a situation that is not easy", believing, however, that "the national police, together with the defense forces, will ensure the success of the election process which will lead to the election of the new representatives of the National Parliament, following the rules of democracy and in a peaceful and stable environment which will make Timor-Leste an example of democracy to the world".
Also attending this ceremony were several members of the Seventh Constitutional Government, representatives of the democratic corps, development partners and representatives of military components and international police forces.