PCA update on Conciliation Proceedings between Timor-Leste and Australia
Thu. 23 of November of 2017, 17:23h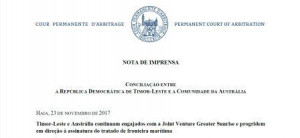 The Permanent Court of Arbitration (PCA) issued a press statement following the recent maritime boundary meetings in Singapore. Delegations from Timor-Leste and Australia met with the Conciliation Commission and the Greater Sunrise Joint Venture from 18 to 20 November to continue discussions about the maritime boundary treaty and the development concept for Greater Sunrise.
Timor-Leste and Australia reached an agreement on 30 August, and have drafted a treaty which finalises the maritime boundary, addresses the legal status of the Greater Sunrise field, establishes a Special Regime for Greater Sunrise, a pathway to the development of the resource, and arrangements for the sharing of the revenue.
The Commission will organise another meeting with all the Parties in December to review progress of the discussions about the development concept for Greater Sunrise.
The Press Release of the PCA is available here.
The news on the agreement between Timor-Leste and Australia on the treaty text is available here.