Government supports creation of tilapia in Baucau
Wed. 05 of July of 2017, 16:39h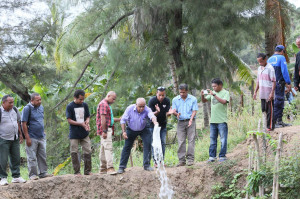 On July 4th, 2017, the Minister of State, Coordinator of Economic Affairs (MECAE) and Minister of Agriculture and Fisheries, Estanislau Aleixo da Silva, took part in the inauguration of an aquaculture program in Bahu hamlet, in the municipality of Baucau.
The Minister of State said that the initiative taken by the group Hadomi Natureza to farm tilapia fish in tanks, demonstrated  their willingness to improve the household economy in their local area..
"This initiative of the group is very good, so we have given them support", he explained.. "The amount of the subsidy from the State, granted from the Office of MECAE is small, but we will continue to support them."
The Minister of State said that technicians are ready to support the farming this type of fish across all 12 municipalities.
The group Hadomi Natureza is mainly composed of young people, 6 men and 5 women.
The Director-General of Fisheries, Acácio Guterres was also present at the inauguration.