Minister of State for Economic Affairs visits Portugal
Mon. 08 of May of 2017, 18:22h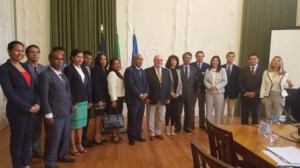 The Minister of State, Coordinator of Economic Affairs and Minister of Agriculture and Fisheries, Estanislau da Silva, visited Portugal between May 2nd and 6th for an intense working visit. During the five days he had meetings with Government members and partner institutions to discuss  areas such as tourism, agriculture, fisheries, marine biology and river basins management.
In a meeting with the Portuguese Vice Secretary of State for Trade, Paulo Ferreira, discussions covered the development and promotion of rural tourism, training of operators and tourist guides and the stimulation of landscape architecture. Information on Timor-Leste's accession process to the World Trade Organization (WTO) was also shared. This issue was also discussed at the meeting with the Portuguese Secretary of State for Foreign Affairs and Cooperation, Teresa Ribeiro.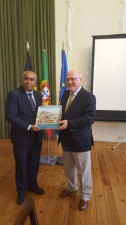 Minister Estanislau da Silva's counterpart, the Minister of Agriculture, Forestry and Rural Development, Luis Manuel Capoulas dos Santos, confirmed his plan to attend the ceremony of the inauguration of the President of the Republic Francisco "Lu-Olo" Guterres and the celebrations of the 15th anniversary of the Restoration of Independence of Timor-Leste, representing the Portuguese State. At the meeting they also analysed issues such as the production process for a herbarium and a botanical gardens in Timor-Leste, the creation of a laboratory in the field of veterinary medicine and the management of river basins, which may be the subject of a bilateral protocol.
The Minister of State visited Companhia das Lezírias to understand the operation of the company and be able to explore related business opportunities in the agroforestry sector, in Timor-Leste. The agricultural company, founded in 1836, is the largest farm of its kind in Portugal, and does not depend financially on the State. It has a total size of about 18,000 hectares, where cattle, rice, wine, olive oil and cork are produced. In this space, people can also develop leisure, educational and other activities.
Accompanied by the Portuguese Foreign Affairs Minister, Capoulas Santos, and the Mayor of the city of Reguengos de Monsaraz, José Calixto, Minister Estanislau da Silva also visited the village of Monsaraz.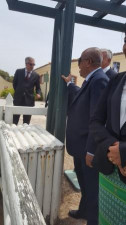 Whilst in southern Portugal, in the city of Beja, the Minister visited the company for the development and infrastructure of the Alqueva Dam (in Portuguese: EDIA), responsible for the dam that allowed for the creation of the largest artificial water reservoir in Western Europe. This was useful to inform thinking on the development potential of Timor-Leste in the area of water resources.
Minister of State Estanislau da Silva also met with the directors of Caixa Geral de Depósitos, the Portuguese public bank, to initiate a partnership with the National Bank of Commerce of Timor-Leste – NBCTL.