Prime Minister opens conference on participation of girls and women in sustainable development
Fri. 19 of May of 2017, 12:30h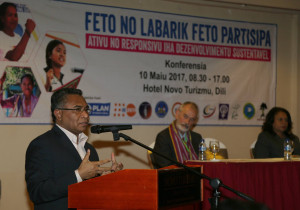 The Prime Minister, Rui Maria de Araújo, opened the national conference "Women and girls are active and reactive participants in sustainable development", which was held on May 10th, 2017, at Novo Turismo Hotel, in Dili.
The objective of this conference was to bring together the representatives from different sectors, to discuss and share ideas that can contribute to achieve the gender equality objectives of the Agenda 2030 for Sustainable Development.
Rui Maria de Araújo said that it is necessary to strengthen the awareness for the need of a grand movement, throughout the world, including Timor-Leste, which may ensure the maximum participation of women and girls in developing their countries.
According to the head of the government, Timor-Leste should feel proud to have already approved and put into practice specific plans to achieve many of the Sustainable Development Goals. He stated that, despite challenges, over the last 15 years the country has had the opportunity to prove that its people are able to implement the sustainable development process, particularly regarding the involvement of women and girls.
The Prime Minister requested that all Timorese, men and women, should work together and without gender discrimination. Men should support women more, girls must commit themselves to achieve their goals and boys must respect gender equality.
Rui Maria de Araújo declared that it is time to act to stop all discrimination against women because the world recognizes that the development will only really go forward when such discrimination ends.